StaffPad is, quite simply, the most fun, innovative, and groundbreaking music notation software available today. The app's introductory price is $50, available exclusively from the Windows Store. The only platform on which StaffPad is currently available, for reasons that we'll soon explore in detail, is pen-and-touch based Windows 8 tablets like the Surface Pro.
With that in mind, let's watch the 2-minute promotional video for StaffPad: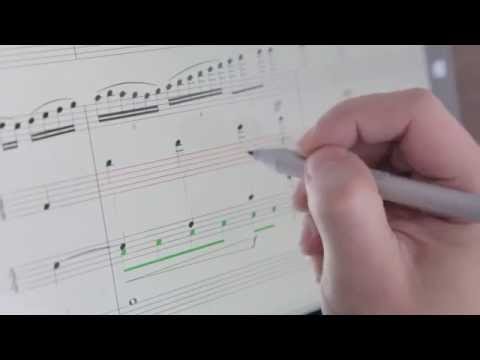 Watching the video may conjure up a sense of déjà vu, but let's not dwell on that too much…
A brief history of music handwriting apps
…OK, maybe just a little, for some brief history: In early 2013, a start-up called ThinkMusic caused a sensation by releasing a promotional video for an iOS app that recognized handwritten music. The video was later discovered to be a series of screenshots from Sibelius and GoodReader, and was ultimately used as a fundraising tool for an app that never materialized. Nevertheless, the buzz demonstrated the intense interest in such a product, if one ever were developed.
Then in October 2013, Neuratron introduced a beta version of NotateMe, a new music handwriting app for iOS and Android devices, with an official 1.0 release two months later. Having years of experience with music recognition technology via its PhotoScore desktop software, Neuratron was naturally positioned to enter the mobile space with a related product. Since then, Neuratron has released version 2 of NotateMe and has integrated PhotoScore directly into the mobile app, via an in-app purchase.
If you use NotateMe, you are aware of its strengths and its shortcomings. Writing something naturally and seeing it instantly converted into typeset notation is nothing short of magical — when it works. It can be disorienting, though, to see your scribbles interpreted by NotateMe in real-time when the interpreted result is not what you intended. Because a split-screen is required — you write music in one staff and it appears, somewhat disconnected from what you entered, above your entry — you can only view a relatively small portion of your music at a time. The non-native interface is, to me, visually unappealing compared to many modern apps. However, with practice, NotateMe is a useful tool for jotting down brief musical ideas and sharing them with yourself or others for later use, thanks to its built-in MIDI and MusicXML support, especially if the only tool you have with you at the time is your smartphone.
The beginnings of StaffPad
During this entire time, and even well before the ThinkMusic video appeared, composer, orchestrator and programmer David William Hearn was thinking a lot about musical notation and its relationship to the digital, mobile world. (You can read a longer interview with David on this blog.) David is no stranger to the world of music technology; indeed, he's done some high-profile work in music for film, TV, advertising, and the stage, including working as music editor and programmer on the film adaptation of Les Misérables — a particularly challenging task, given the nature of that film's live recording process. He's also one half of the team behind the Cinematic Strings sample library for Kontakt.
With all this technological know-how, though, David said he was concerned about the growing remove between the creative inspiration and the technical skills needed to compose music digitally. "I worked in sequencers and had to buy Sibelius because I was doing string arrangements for pop records," David told me. "But my focus was on sequencers, and it seemed that the two lived in very different worlds. You were expected to write into a sequencer and then lay it out and finish the job in Sibelius, if it was ever going to be played by real musicians. That killed productivity and inspiration for me. As much as I contribute to it with Cinematic Strings, I really dislike the act of getting up in the morning and switching on the computer, opening up Cubase, having some iLok error to deal with, creating MIDI tracks, loading in samples, buying new sounds… it's not a musical process, it's a technological process."
So David set about thinking of a way to bridge the gap, and the music handwriting app was born. "The actual moment of 'let's do this' came whilst I was sat in Air Studios with orchestrator Nicholas Dodd," David said. "He's probably one of the top orchestrators in the world. There had been some crisis on the film session we were at, and whilst we were having lunch chatting about how we could solve those kinds of issues, I floated the idea that I'd been having about making a notation app that's designed around pen. Nicholas lit up in a way that you rarely see, and flooded the room with enthusiasm. That was the moment that I realized that, if it was done right, the app could be useful to true professionals — but also be simple enough for the casual musician, teacher, student to enjoy."
David then built a non-functioning prototype, but needed some serious coding help. "When I started looking around for freelance developers that I could hire to help me build this vision," David said, "I thought, well, I should first look to see if anyone's done it already. At that time, nobody had, at all. But there was a page on Google Code that Matthew Tesch had started. It was basically an outline of something he wanted to do, but hadn't started yet."
A collaboration was born. "Matt's been brilliant. He's the coding genius that makes it all happen. The recognition is all Matt's work," David said. "He works for Carnegie Mellon University programming search and rescue robots! We've been working on this together for the past three years."
Those three years of work have finally seen the light of day today. I've been working with an advance build of StaffPad for a few weeks now, so let's take a detailed look at it. Read the full article →
{ 9 comments }